Convenient at-home veterinarian visits.
To better serve you and your pets, we provide house calls for your convenience. This service is particularly beneficial for anxious pets, owners with limited mobility or access to transportation, and clients with multiple pets at home.
Using a mobile veterinarian service offers many advantages for both you and your pet, for costs comparable to an office visit, including:
Less stress for you and your pet. Car rides may be very stressful for many pets, especially cats. Also, many pets become fearful and stressed upon entering a veterinary hospital. The Mobile Unit can also be less stressful for you, the owner. We eliminate the problems of loading pets into carriers and cars, driving them to the clinic, waiting to see a veterinarian and driving home. That means less wasted time for you.
One on one attention with the veterinarian. Most veterinary hospitals schedule appointments every 15 minutes. Our appointments run 15 to 45 minutes, depending on the situation. We want to take the time to thoroughly evaluate your pet in his or her environment, as well as answer all of your questions.
All pets in the household may be seen in one visit. This is very helpful for multi-pet households.
Less exposure to contagious diseases and external parasites like fleas. This is especially important for very young patients as well as immune compromised patients.
How the Mobile Unit Works for You and Your Pets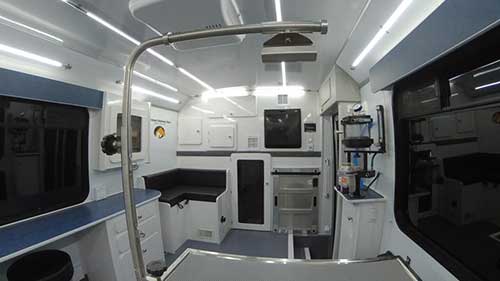 We will pull into your driveway or park on your street, whichever will work best. Almost always you will bring your pet out to the truck for the exam. This is the best way to fully examine and weigh your pet.
Dogs usually hop into the truck with ease. Please have them on a leash, if they have a tendency to run. We can assist large or immobile dogs when necessary.
Cats usually need to be confined prior to our arrival. It is amazing how well they hide when they hear a vehicle pull alongside their house! A small bathroom usually works well for confinement. Bedrooms usually are not the best because the cat(s) will hide under the bed. Utility rooms also are not ideal because the cat(s) will hide behind the washer and dryer. You may carry your cat out to the truck if your cat is very calm, but in order to keep them safe, we recommend carrying them out in a carrier. We have a cat box on the truck if you need to borrow it.
Please ask if you have any questions about how the process will work!
Cat Catching Tips
Holding their "scruff" gently will often calm them.
Wrapping them in a towel to create a "kitty burrito" will often calm them and prevents their claws from scratching you.
Placing them into the carrier backwards prevents them from spreading their front legs and blocking entry.
Mobile Unit Service Area
Noblesville
North of 96th Street
East of U.S. 31
West of Pendleton and Anderson
South of Tipton and Elwood
If you have questions about house calls or you'd like to schedule an appointment, call us at (317) 313-8760.